Sweet Graze: The best lactation biscuits you will ever eat!
Have you ever tried a lactation biscuits before? Sweet Graze lactation biscuits are not only nutritious and a convenient snack, they are so delicious! In fact, our customers often tell us that they are the best lactation cookies they've ever tried. Read on to learn more about what makes Sweet Graze lactation biscuits special…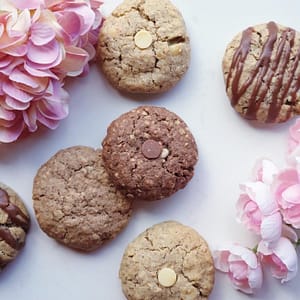 Enjoying a lactation biscuit is a great way to nourish your body whilst breastfeeding.
You may hear of lactation biscuit also being called breastfeeding cookies or nursing cookies. At Sweet Graze, we have spent years perfecting our recipes so that they are not only wholesome, but delicious too. We use only the very best, high quality, lactogenic ingredients (more about lactogens, below) to create yummy snacks that supply important vitamins and minerals to support the breastfeeding mother's milk supply.
What goes into a Sweet Graze lactation biscuit?
So what exactly goes into a Sweet Graze lactation biscuit to make it so special? We mentioned 'lactogenic ingredients' above. These are also sometimes refers as lactogens, or galactagogues, and they are basically foods that are known to improve or support milk production in the body. All of our lactation biscuits contain flaxseed (otherwise known as linseed), brewer's yeast and oats- all well-accepted natural galactagogues. What do these do?
Oats are a great comfort food. They are a quality source of plant protein and they are packed full of beta-glucan fibre, vitamins, minerals and antioxidants. Each lactation biscuit contains oats because they are low-GI, helping to keep you feeling fuller for longer, along with providing essential nutrients for milk production.
Brewer's yeast is one of nature's super foods. It is a natural source of iron, vitamin B, key amino acids and minerals such as chromium and selenium, all of which all support healthy milk production. For many years and across many cultures, brewer's yeast has been championed as being a natural nutritional supplement that improves energy levels, improves mood and also general health and wellbeing.
Flaxseed (otherwise known as linseed) is one of the best known plant-based sources of fatty acids, especially omega-3s. each lactation biscuit includes flaxseed due to the presence of phytoestrogens in these little seeds, which are known to have a positive influence on breast milk production.
Of course, our lactation biscuits also contain decadent mix-ins. We offer an assortment of flavours, including Nutella, chocolate chip, white chocolate macadamia, vegan Lotus Biscoff triple chocolate and now, Caramilk.
Try a lactation biscuits as a convenient snack when you're on the go!
Each Sweet Graze lactation biscuit is individually packed and heat sealed, so they stay fresher for longer. Our cookies last for around 3 months in their original packaging. This makes them such a convenient snack for any time of the day. You can toss a couple in your baby bag (or even in your handbag if you're expressing at work!), or keep some by the bedside table so that you can have a little snack while you're up for those nighttime feeds in the early days!
It feels great and gives mums peace of mind to know that they can now have a tasty snack that is also providing their body with essential nutrients to support their milk production, and ultimately their growing baby.
The whole family can enjoy a Sweet Graze lactation biscuit.
These are so tasty, no doubt dad and the kids will also want to try them! Don't fret- anyone can have a lactation biscuit. It won't make you spontaneously lactate (dad, we're talking to you!).
When should I have my first lactation biscuit?
"Should I try having a lactation biscuit yet?" it's a common question that new mums ask us. You can begin snacking on Sweet Graze lactation biscuits at any time during your pregnancy or breastfeeding journey. It's never too early or too late. It is important to bear in mind that the actual process of milk production is triggered by the hormones that are released by your brain once your baby is born. However, many of our customers have told us that when they started eating our lactation biscuits during pregnancy, they produced more than enough colostrum, so they were able to freeze in syringes in preparation for the birth of their baby.
I ate a lactation biscuit…how long does it take to work?
Another common query! Lots of mums say they notice a difference within a few hours, or on the same day as they start eating our lactation biscuit. Other mums noted that it took a few days, perhaps up to a week so notice a change in supply. Always keep in mind that lactation cookies are intended to be complimentary and supportive to a healthy diet. In order to get the best possible outcome from consuming lactation cookies, breastmilk needs to be removed frequently and effectively from the mother's breasts. This means breastfeeding your baby frequently, swapping sides to ensure complete drainage, or expressing regularly. The body's regulation of milk production is simple: empty breasts trigger the release of hormones to produce more milk!
It goes without saying that everybody is different, so we cannot guarantee any specific/individual results. If you have been consuming lactation cookies for a while and aren't seeing the results that you had hoped for, there may be underlying issues that need to be addressed. In these instances, we would always recommend that you get in touch with a breastfeeding specialist (IBCLC) or consult with your GP for a thorough assessment.
Best lactation biscuit Melbourne? Or probably even the best lactation biscuit Australia? Sweet Graze! And why?
Hundred of Aussie mums have already tried and are already loving Sweet Graze lactation biscuits. Why?
Because we are a small business that is founded, owned and operated by a Melbourne mum of two beautiful girls
Because all of our orders are baked fresh (without exceptions) with no preservatives or anything artificial whatsoever
Because we use the highest quality lactogenic ingredients to support and nourish you and your bub
Because each lactation biscuit is wrapped and heat sealed individually, for your convenience
Because they're safe for the whole family to enjoy
Because they're delicious!
Feel free to contact us at Sweet Graze at any time.
If you have any questions, please contact us at any time, by using the 'Contact Us' tab or messaging us on our socials on Facebook or Instagram. We will get back to you as soon as we can!