If you haven't' already tried Sweet Graze breastfeeding cookies, what are you waiting for? Our breastfeeding cookies are really yummy! They are also a nutritious snack that's super – convenient for busy mothers, and the rest of the family can safely enjoy them too. Most importantly, our customers love them and they really do work to boost and support a breastfeeding mother's milk supply.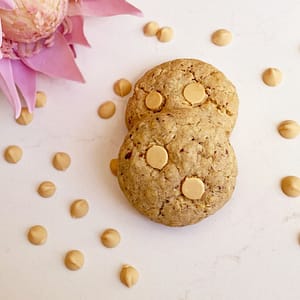 Breastfeeding cookies are a great snack for breastfeeding mums.
Sometimes, you might hear of breastfeeding cookies being called lactation biscuits- they are the same thing. Here at Sweet Graze, we are so proud of the fact that we have worked hard for many years to perfect our breastfeeding cookies recipe. All of our breastfeeding cookies are baked fresh and to order, right here in Melbourne, Australia. We only use the very best quality, fresh ingredients in our cookies.
Not all breastfeeding cookies are baked equally. Sweet Graze lactation biscuits were created to be baked full of vitamins and minerals that are known to help to nourish the breastfeeding mother's body.  Our breastfeeding cookies also include lactogenic ingredients, which are known to boost and support milk production.
We are really pleased that you're interested in breastfeeding cookies Australia, and we would love it if you read on to learn more about how Sweet Graze lactation biscuits could support you in your breastfeeding journey.
Sweet Graze breastfeeding cookies were created to boost and support the breastfeeding mother's milk supply.
Sweet Graze breastfeeding cookies all include premium rolled oats (except for the special gluten free biscuit!), brewer's yeast and flaxseed. These ingredients form the base of all our biscuits, since they are  considered to be nutritious, lactogenic ingredients.
Oats help to keep you feeing full for longer. They are a good source of plant protein, and they are full of beta-glucan fibre, vitamins, minerals and antioxidants.
Brewer's yeast has long been considered one of nature's super foods. Full of iron, vitamin B, amino acids and minerals such as chromium and selenium, it is included in our breastfeeding biscuits to help support healthy milk production. Brewer's yeast has been used for hundreds of years by many cultures to improve energy levels, mood, and as a general wellbeing supplement.
Flaxseed (otherwise known as linseed) is known to be one of the best plant-based sources of fatty acids, primarily omega-3s. We add flaxseed into our breastfeeding cookies since they also contain phytoestrogens, which are natural compounds that are known to improve the production of breast milk.
Sweet Graze breastfeeding cookies come in a selection of different flavours.
Here at Sweet Graze, we have worked hard for many years to develop a selection of delicious flavours for our customers to choose from when ordering breastfeeding cookies Australia. Our range includes:
We also know that it might be hard to choose just one flavour, so we also offer an Assorted box so that you can try the most popular flavours and work out which one (or ones!) you like best.
Recently, we have also grown our range to now include vegan and gluten free options, so there really is something for everyone now.
Sweet Graze breastfeeding cookies are the perfect snack for busy mums!
We want you to fuss less and enjoy more. That's why Sweet Graze breastfeeding cookies all come individually wrapped and heat sealed, keeping them fresher for longer. When kept in their original packaging and stored at room temperature, our breastfeeding cookies will last for around 5 to 6 weeks from their bake date. Alternatively, you can join many other mums who take advantage of our flat-rate shipping and order in bulk and pop the cookies into the freezer. We've done all the hard work so that you have access to a convenient and nutritious snack.
Hundreds of Aussie mums enjoy the convenience and nutritional benefits of Sweet Graze breastfeeding cookies. It's so easy to just toss a couple of our lactation cookies into your nappy bag, so that you can have a quick snack while you're on the go, or you can leave one on your bedside table for a late night snack when you get up to breastfeed your baby.
Sweet Graze breastfeeding cookies are safe for the whole family, and you can start at any time.
We get so many mums asking us when they can start consuming breastfeeding cookies! It's simple: start eating them at anytime throughout your pregnancy or breastfeeding journey. You may begin eating Sweet Graze breastfeeding biscuits whilst you are pregnant, however the breastmilk production is actually triggered by the hormones that the brain releases when your baby is born. Many of our customers have told us that when they began consuming our breastfeeding cookies during their pregnancy, they produced ample colostrum, and many of them chose to freeze it in syringes in anticipation of the birth of their baby.
Sweet Graze breastfeeding cookies are also suitable for the whole family to enjoy, from the little ones all the way through to mum and dad.
Breastfeeding cookies Australia, we've got you sorted!
So many Aussie mums are already eating and enjoying Sweet Graze breastfeeding cookies. Here's just a few of the reasons why:
Sweet Graze is a small business that is completely owned and operated by a Melbourne mumma of two beautiful girls
Every single order is baked fresh. We do not add any preservatives or anything artificial whatsoever
All of our breastfeeding cookies are baked using the best quality lactogenic ingredients available, so that we can help to support and nourish the mother's and the baby's body
All of Sweet Graze breastfeeding cookies are individually wrapped and heat sealed for freshness and convenience
Our breastfeeding cookies can be enjoyed by the whole family
They're yum!
Contact Sweet Graze for breastfeeding cookies Melbourne.
Have a question or want to chat to us about something? You can get in touch with us at any time by using the 'Contact Us' form or messaging us on our socials, on Facebook or Instagram.