Have You Tried Sweet Graze Lactation Snacks?
Quality lactation snacks are a great way for busy new mums to support their breastmilk production. Sweet Graze's range of lactation cookies and dry cookie mixes are convenient, nutritious and delicious- perfect for breastfeeding mothers!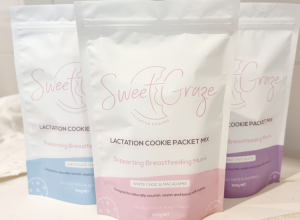 Have you tried lactation snack from Sweet Graze?
At Sweet Graze, we stock a wide variety of lactation snacks in ready-to-eat lactation cookies. We've recently added dry mix lactation cookie mixes to our range, so you can have homemade lactation cookies straight from the oven whenever you crave them!
We know that you want the best for yourself and for your baby; that's why we only choose the highest quality, fresh ingredients for our lactation snacks. By selecting the best, we ensure that our lactation snacks are jam-packed full of essential vitamins and minerals, to help nourish the breastfeeding mother's body.
All Sweet Graze lactation snacks contain lactogenic ingredients.
Most importantly, we include lactogenic ingredients in all of our lactation snacks. These are foods that known to influence breastmilk production. They include premium rolled oats, brewer's yeast and flaxseed, which are all considered to be highly nutritious and lactogenic ingredients.
Oats- a comfort food, a good source of protein, full of beta-glucan fibre, vitamins, minerals and antioxidants. Oats have a low glycaemic index, assisting with blood sugar regulation and keeping you feeling fuller for longer.
Brewer's yeast- a super food that has been consumed by breastfeeding mothers for centuries, across numerous cultures, it contains iron, vitamin B, key amino acids and minerals such as chromium and selenium, which all support healthy milk production. Brewer's yeast can help with improving energy levels, improving mood and for general wellbeing.
Flaxseed– otherwise known as linseed, it is one of the best plant-based sources of fatty acids, especially omega-3s. We include flaxseed in out lactation snacks because they contain high levels of phytoestrogens, which are known to influence breast milk production.
Sweet Graze lactation snacks are a perfect choice for busy, breastfeeding mums.
We're mums too, so we get it! Mum life is busy. So we've done the hard work for you by creating delicious, nutritious, conveniently packed lactation snacks, ready to eat at any time. We have lots of different lactation cookie flavours, and we even offer an assorted mixed box.
All of our lactation snacks are individually wrapped and heat sealed for ultimate freshness and convenience. Keep a couple by the couch or bedside table for feeding times, toss a couple in the nappy bag for when you're out and about, or pop a some in the glove box for those times you find yourself rushing between appointments.
And what great peace of mind it is, knowing that your lactation snacks are not only yummy, but good for you and your baby too!
Sweet Graze lactation snacks can be enjoyed by the whole family, and throughout pregnancy.
Mums often want to know when they can start eating their lactation snacks, and whether the cookies are safe for other family members to enjoy. You can start consuming your lactation snacks safely at any stage of your pregnancy or after your baby is born. Keep in mind that the production of milk is actually triggered by hormones that are released by the brain once your baby is born, so we can't comment on how much difference they make if consumed throughout pregnancy. Many of our customers who have eaten lactation cookies during their pregnancy have told us that they produced more than enough colostrum to freeze in syringes in preparation for the birth of their baby.
Our lactation snacks are most definitely safe for other family members to enjoy too. No, dad, they won't make you lactate!
Looking for lactation snacks? Look no further!
Thousands of Aussie mothers already love Sweet Graze lactation snacks and here's why we know that you will too:
We are a small business owned and operated by a Melbourne mum of three
We bake our lactation snacks using only the highest quality, fresh ingredients, with no preservatives or anything artificial
All of our lactation snacks are individually wrapped and heat sealed for freshness and convenience
The whole family can enjoy our lactation snacks
They're yum!
If you have any further questions or queries, please feel free to reach out to us at any time, by using the 'Contact Us' tab or messaging us on our socials on Facebook or Instagram.