That's how it started: I didn't know where to buy lactation cookies for myself…
Many moons ago when I had my first baby, I knew I wanted to breastfeed her. In amongst my hours of reading and researching, I'd come across women speaking of these magic biscuits and I wondered where to buy lactation cookies from. I searched at my local chemist and kids stores, and came across a couple of brands at the time. I tried them and I wasn't overly sold (if I'm being completely honest!). That was when I realized that I would try to bake my own.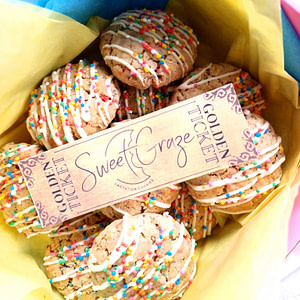 Not knowing where to buy lactation cookies that actually tasted great and delivered the results they mentioned, I set out researching on how I would go about baking my own. I had a few boxes to tick: they had to be nutritious, they had to be delicious, and they had to work.
Hours upon hours of reading, purchasing ingredients, and test baking; it was a long process, but not knowing where to buy lactation cookies that fit my needs, it was my only option!
Over time I was able to refine my base recipe and perfect it. At that point, I began to experiment with flavours, and boy was that a game changer! Chocolate chip were the first flavour I ever baked. Then came macadamia white and white chocolate, and the rest then followed.
I still remember when I baked my first batch of Nutella lactation cookies. They were the first, the original Nutella-filled lactation cookies on the market (well, I speak for within Australia, at least!). Oh. Em. Gee. I gave some to a friend that was also breastfeeding at the time. "You have to bake and sell these!", she said.
So, that was that: I figured that there were probably many other Aussie mums that were wondering where to buy lactation cookies that were actually a pleasure to eat, as well as delivered results. And Sweet Graze was born.
Lucky for you, I've done all the hard work.
If you're wondering where to buy lactation cookies in Australia, then you've found the right place!
Over the years my range has grown to include lots of flavours, as well as diary-free, gluten-free and vegan options for those with intolerances (because no one should have to miss out, and let's face it, if you have a dietary requirement, it can be difficult to find delicious snacks full stop, let alone lactation cookies!).
All Sweet Graze lactation cookies are individually heat sealed so that they maintain freshness for weeks, and they can be frozen. More importantly, they're super convenient- you can just toss a couple into your nappy bag or leave them on your beside table for a snack during those late night feeds.
Recently, Sweet Graze also released dry packet mixes. Why not order a pack or two with your next lactation cookie order? Keep the dry mixes in the pantry so that you're never caught out when you find the cookie box empty (we're looking at you, dad). Plus, what's better than the smell of freshly baked cookies?
So there you have it: you probably searched where to buy lactation cookies, and here's your answer- Sweet Graze.
I'm certain that you, like hundreds of other Aussie mums will love the taste and the results from our popular lactation cookies. Go on, give them a try.