It's the question on everybody's lips isn't it: do lactation cookies actually work?
We say yes, and so do hundreds of happy customers! How and why? Read on…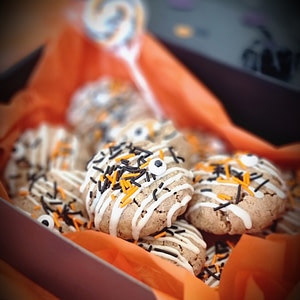 Do lactation cookies work? Here's what our customers say…
With so many products on the market that claim to do all sorts of things, it's only natural that you may question, do lactation cookies actually work? We let our cookies do the talking for us. We took a simple concept and made it great, always making sure we're using the best quality ingredients to support and nourish the breastfeeding mother's body. And here's what some of the hundreds of great reviews on our products have to say:
"Before I ordered the cookies my milk supply wasn't that great and now I can either pump for ages or feed for ages. I really wish I brought these while I was pregnant now I know for next time." -Jennifer
"I cant believe how much these actually work, I was skeptical at first as i never even heard of them until I found them on Instagram! I am pumping and breastfeeding and still am so full." -Kelly.
"I've tried a range of other brands of lactation cookies, first time trying Sweet Graze and OMG best tasting and they really work. Hands down best ones I've ever tried. My only complaint, I want to eat ALL THE COOKIES! Too delicious!" -Alison.
"I have never loved something more!! This has been a great enhancement to my breastfeeding journey and I could not recommend the following enough! not only delicious but so handy to get that extra boost of supply!! Not to mention quick to receive and outstanding customer service!" -Chelsea.
"These lactation cookies are absolutely delicious, really helped with my milk supply, Will definitely be buying more!!" -Thehani.
"These cookies are absolutely amazing! Texture and flavour are both mouth watering and I have seen an increase in my supply. Nutella are my favourite flavour so far!" -Krystal.
"They boosted my supply amazingly and are absolutely delicious- it's hard to stop at 2 a day!" -Annaliese.
"So nice with a coffee as an afternoon pick me up. And they worked wonders for me. I wish I had these during my first pregnancy!" -Georgia.
Do lactation cookies work? How do they work?
Lactation cookies work due to the inclusion of lactogenic ingredients, which are also sometimes called galactagogues. Sweet Graze lactation cookies include oats (except for gluten free options), linseed and brewer's yeast, which are all known to be lactogenic foods, used by mothers across the world for hundreds of years to help boost and support their milk supply.
"Noticed some missing from the box and found that my husband has been sneaking some for himself!!" –Diala.
Sweet Graze lactation cookies are safe for the whole family to enjoy (and won't make dad lactate, don't worry!). We always use the freshest and highest quality ingredients that are available, so that your family experiences the best in flavour, nutrition, and milk supply (for mum!).
Do lactation cookies actually work? What are your best tips?
To get the best effect from your lactation cookies, here are our top tips:
Eat a balanced diet: including lots of leafy greens!
Drink plenty of water: aim for at least 2-3L a day
Empty your breasts efficiently: this means often, and completely, whether you're breastfeeding or pumping.
If you look under our 'Blog' tab, you'll find more detailed information about increasing and maintaining healthy milk supply.
Do lactation cookies actually work? Where can I buy them?
If you're still wondering 'do lactation cookies actually work?', the best way is to buy a box and try them for yourself! Just click on the 'Buy' tab and you will be directed to our selection of lactation cookies. We offer a range of delicious flavours, and we have options for those with dietary requirements too. We wrap and heat seal all of our cookies individually, for the ultimate in freshness and convenience. If you'd like to keep a back-up option on hand just in case you run out, we also have dry packet mixes that you can prepare at home, offering the same great taste, texture and benefits as our boxed lactation cookies.
Disclaimer
The blog above, entitled "Do lactation cookies actually work?" is intended for informational purposes only. Sweet Graze does not intend for content described in blogs to be taken as general or medical advice. If you are having trouble with your milk supply, we always suggest that you seek the advice of a qualified lactation consultant or your trusted healthcare professional.