Classic choc chip, white chocolate macadamia, Nutella, Biscoff….but what about something different like pumpkin spice or even peanut butter lactation cookies? We want to know what you want to taste!
Sweet Graze Lactation Cookies – Peanut Butter Lactation Cookies
Have you tried Sweet Graze lactation cookies yet? Our lactation cookies are super delicious and come in a range of different flavours. We know our customers enjoy the benefits of having a nutritious snack that's conveniently portioned and packed- perfect for busy mothers. What's even better, the rest of the family (including daddy!) can safely enjoy them too!
But the best thing (in our opinion, anyway) is that Australian mums love them, and the feedback that we've received over the years tells us that they really do work wonders to help support the breastfeeding mother's milk supply.
We're always working to improve and expand our range, so at the moment we're looking at adding some new flavours to our range- peanut butter lactation cookies are often something we get asked for, but have you got other suggestions? We'd love to hear. But first, we'd love you to learn a little more about our lactation cookies.
Sweet Graze Lactation Cookies – Peanut Butter Lactation Cookies
As a new mum, Sweet Graze founder, owner and baker, Daniela, saw a gap in the market for an effective, nutritious lactation cookie that also tasted amazing. So many others were bitter, bland or didn't provide much nutritional benefit. So she simply decided to create her own!
Sweet Graze lactation biscuits were developed to be packed full of lactogenic ingredients plus vitamins and minerals that are known to help support the production of breastmilk by nourishing the breastfeeding mother's body. These ingredients include flaxseed (or linseed), brewer's yeast, and oats.
Sweet Graze Lactation Cookies – Peanut Butter Lactation Cookies
One of the first flavours that was every requested to Daniela to bake was peanut butter lactation cookies! Did you know that? Requested by a close friend who is a vegan, Daniela got right to work creating the said peanut butter lactation cookies! From there on, she added other flavours to the range, which currently includes: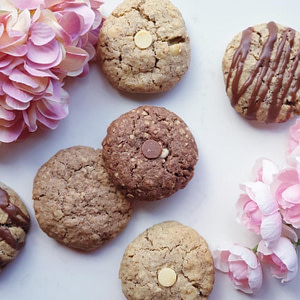 During special occasions, Sweet Graze also releases special edition flavours (like gingerbread at Christmas time!).
Sweet Graze is now ready to expand our range to include more flavours and accommodate for mre dietary specifications, so now is your chance to have your say!
Whether its pumpkin spice, cranberry pistachio, peanut butter lactation cookies or any other flavour combination that you can think of, we want to hear about it! Head over to our Instagram story and vote today, or email through your suggestions using the online contact form. We can't wait to see what you come up with!