Lactation cookies can be a beneficial and nourishing snack for breastfeeding mums, but what are lactation cookies made of?
Over the years, our team here at Sweet Graze has worked hard to develop lactation cookies that not only taste great, are easy and convenient to enjoy, but that really work. We have hundreds of five-star reviews on our products, from hundreds of satisfied mums whose breastfeeding journeys we have been so privileged to have come along on.
We do often get asked about what makes lactation cookies "lactation" cookies; what are lactation cookies made of? Our base recipe includes three core lactogenic ingredients. Lactogenic ingredients are also sometimes referred to as lactogens or galactagogues- these are ingredients that are known to increase or support breast milk production.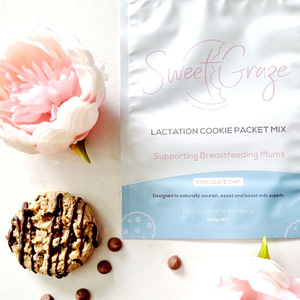 What are lactation cookies made of? Wholesome lactogenic ingredients!
All of Sweet Graze's lactation cookies contain premium rolled oats (except for our gluten free cookies, where we use quinoa flakes), brewer's yeast and ground flaxseed, which are all foods that are considered to be highly nutritious and lactogenic.
What are lactation cookies made of? Oats.
Oats are one of the best foods to consume whilst breastfeeding to support milk production. They are wonderful comfort food, a good source of protein, and high in beta-glucan fibre, iron, magnesium and zinc. Oats are a staple in our (non- gluten-free) lactation cookies because they help to keep you feeling fuller for longer, along with providing you with key nutrients that are important for healthy milk production.
In our gluten-free lactation cookies, we replace the oats with quinoa flakes. Quinoa is high in magnesium, which helps to absorb calcium, and is therefore essential during breastfeeding. Quinoa is also high in fibre and protein, making it an excellent alternative source for those who cannot have oats.
What are lactation cookies made of? Brewer's Yeast.
Brewer's yeast has been consumed for many years as a probiotic, helping to keep the gut healthy. Brewer's yeast is also an excellent source of iron, vitamin B, key amino acids and trace minerals such as chromium and selenium, which are all important for healthy milk production. For many years, brewer's yeast has been consumed by breastfeeding mothers across many cultures for its ability to improve energy levels, improve mood and for general wellbeing.
What are lactation cookies made of? Flaxseed.
Flaxseed or linseed is known to be one of the best plant-based sources of fatty acids, especially omega-3 fatty acids. We include flaxseed in our lactation cookies due to their phytoestrogen content, which is known to influence breast milk production.
What are lactation cookies made of? Wholesome, quality ingredients!
At Sweet Graze, we don't cut corners or compromise on quality. We want our lactation cookies to taste amazing, but we also want them to be full of goodness! That's why we select the highest quality, fresh butter, eggs and flour for our products. We use premium chocolate, spreads and nuts to create our popular flavours, and we individually wrap and heat seal all of our cookies so that they stay fresh for longer, holding their nutritional quality more effectively, too.
Have any questions?
If you have any further questions on what lactation cookies are made of, or any other queries, please feel free to contact us at any time; we love a chat! You can reach us by using the 'Contact Us' tab or messaging us on our socials on Facebook or Instagram.