Here at Sweet Graze, we are known for our extensive range of flavours in lactation cookies. Whilst our range already includes lots of delicious flavours an options to suit those with dietary requirements, we now offer a range of dry mixes to bake at home…so finally you can have M&M lactation cookies!
Sweet Graze Lactation Cookie Dry Mix- M&M Lactation Cookies
Have you tried Sweet Graze lactation cookies and dry mixes yet? We've worked tirelessly to create lactation cookies that are super delicious and come in a range of different flavours to suit different tastes and dietary requirements. Over the years, feedback and hundreds of 5-star reviews have shown us that our customers enjoy the benefits of having a nutritious snack on hand, that's conveniently portioned and packed- the perfect products for busy, lactating mothers.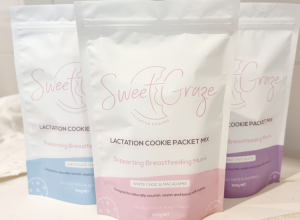 Sweet Graze Lactation Cookie Dry Mix- M&M Lactation Cookies
When Sweet Graze owner, founder and baker, Daniela was a new mum, she searched high and low not only for M&M lactation cookies, but just for any lactation cookies that were delicious and that worked. So many brand she tried were bitter, bland or didn't provide much nutritional benefit.
So Daniela decided to set to work, creating her own brand of lactation cookies.
Sweet Graze lactation cookies were developed to be yummy and convenient, but also packed full of lactogenic ingredients, and vitamins and minerals that are known to help support the production of breastmilk by nourishing the breastfeeding mother's body. Some of these beneficial ingredients include flaxseed (or linseed), brewer's yeast, and oats.
Sweet Graze Lactation Cookie Dry Mix- M&M Lactation Cookies
Everyone loves a good spotty chocolate cookie, so naturally, M&M lactation cookies were on the list of flavours to experiment with in the early days. Over the months and years to come, Daniela would experiment with lots of different flavour combinations of lactation cookies.
The regular range of Sweet Graze lactation cookies currently includes:
During special times of the year, Sweet Graze also releases special edition flavours (like gingerbread at Christmas time, or birthday cake on her birthday!).
Sweet Graze Lactation Cookie Dry Mix- M&M Lactation Cookies
Whilst M&M lactation cookies aren't currently on the standard flavour list, Sweet Graze has recently expanded the range to include dry packet mixes. These are a super-convenient product to keep in the pantry, ready to mix up whenever you're feeling like a warm, fresh, homemade lactation cookies!
The dry mixes come in flavoured or plain, so whether you're feeling like M&M lactation cookies or some other flavour combination of your liking, you have the flexibility and creative control!
Do you want to see M&M lactation cookies added to our regular range? Or perhaps some other flavour? Or have you tried our dry mixes? Head over to our Instagram and give us your suggestions and feedback today- we love to chat! Or you could email us using the online contact form. We can't wait to see what you come up with!